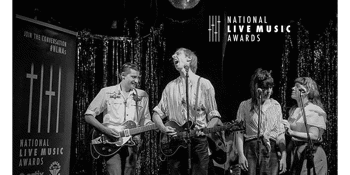 National Live Music Awards present
National Live Music Awards 2019 Gala - Brisbane, QLD
The Triffid (Newstead, QLD)
Wednesday, 4 December 2019 6:00 pm
The National Live Music Awards 2019 Gala is being held at The Triffid in Brisbane once again this December 4th!
This year, the NLMAs gala will have no less than three hosts – none other than The Triffid's infamous Not On Your Rider Trio: Patience Hodgson (The Grates), Aimon Clark (The Creases) and Jeremy Neale (Jeremy Neale, Velociraptor), in the surrounds of a unique stage set up thanks to our partners FV by Peppers.

The night will include performances from Live Legend inductee Deborah Conway with Willy Zygier plus nominees Jack Carty, Little Georgia and a very special introductory performance from The Blockades, who were one of our favourite acts that took part in this year's QUBE Effect Program, presented by our partners Brisbane City Council. More acts and special guests will be announced in the leadup to the award gala.

https://www.facebook.com/events/402774047280420/

Strictly limited tickets remain at nlmas.oztix.com.au. To order a VIP table at the event, please contact nlmas@heathmedia.com.au.

A strictly limited allocation of first release tickets are available now for the event, at $39+bf.

Want to have your say in who wins in the QLD categories? Head to nlmas.com.au/vote/. Voting closes on November 12th. And then the winners will be announced on December 4th at The Triffid!
You'll find all the details, including nominees, over at nlmas.com.au.