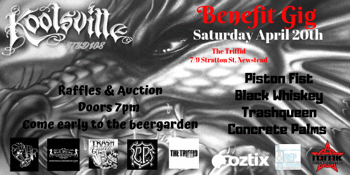 MMK Music Promotions present
Koolsville Studio Benefit Gig
Bands playing Piston Fist, Black Whiskey, TrashQueen, Concrete Palms
The Triffid (Newstead, QLD)
Saturday, 20 April 2019 7:00 pm
Easter Saturday, MMK Music Promotions will host a benefit gig for the Kosenko family after they tragically lost their family business to fire on March 1st.
Koolsville Studios was burnt down and the losses financially and emotionally were huge. Koolsville was not only a Tattoo shop, it was also a laser removal clinic, retail store and art gallery. It was a thriving family business that has supported many people over the years.
They employed not only their family but others who had family's to support and this has been a great loss to all involved.
All money raised at this benefit gig will go directly to the family to help support them through the next few months and to help them to rebuild Koolsville Studios.
On the night expect to be entertained by 4 local Brisbane bands including Alex Kosenko and his band Concrete Palms who will be opening the night. Trashqueen will bring some Blues Rock to the night followed by Black Whiskey who refuse to let Rock N Roll die.
Closing the night Brisbane's very own Heavy Rock band of brothers Piston Fist.
There will be Raffles and an Auction on the night to raise funds toward this cause.
Many people have generously donated to the cause and donations continue to come in.
Donations are also being accepted via a Go Fund Me Page .