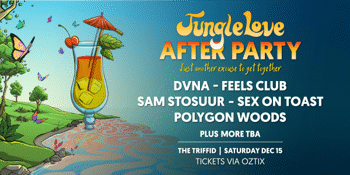 Jungle Love Festival present
Jungle Love After Party
feat. Sex on Toast, DVNA, FeelsClub, Sam Stosuur, Polygon Woods and more
The Triffid (Newstead, QLD)
Saturday, 15 December 2018 5:30 PM
Sometimes, it's hard to wave the party good bye. You've had meaningful experiences, discovered new musical terrain, maybe you even met a special someone and never got a phone number. For those of us left struggling to get back into reality after Jungle Love, or those that missed out, we've put together a special celebration for us all to get back together and share stories from the tropical escape.
Headlined by the good time experts themselves, Sex On Toast, our Jungle Love After Party at The Triffid will rekindle all those memories, sensations and friendships that emerged throughout dream-like experience of Jungle Love. DVNA, FeelsClub, Polygon Woods and Sam Stosuur will be setting the tone from sundown, so make sure to show up early enough to catch these spectacular Brisbane up and comers.
See you on December 15th!
Lineup:
Sex On Toast
DVNA
FeelsClub
Polygon Woods
Sam Stosuur