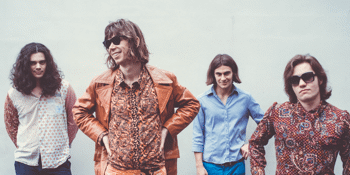 Lithium Entertainment & Young Henrys present
Port Royal
with the Cherry Dolls, Selfish Sons, Georgie Neilsen & the Growing Pains
The Triffid (Newstead, QLD)
Friday, 2 November 2018 7:30 PM
Port Royal have been holding the rock n' roll crown in Brisbane since forming in mid-2015 and have, in no-doubt, made serious impressions in that time.
It was May 2016 when they released their debut EP 'The Express' and since, they have graced the stage with nationally touring rock acts such as The Delta Riggs, Wolfmother and The Cherry Dolls.
The band followed up their debut EP in March 2017 with their single 'Get Heavy' which was later voted in at #2 on 4ZZZ's Hot 100 on January 1, 2018.
In September 2017, Port Royal released another single 'Pinch-Hit' and embarked on their first East Coast tour. They returned home and then quickly made plans for to hit the road for the second time.
Fittingly, they called the 11 date tour that stretched from December to February 2018, the 'Don't Stop Movin' Tour' that had them revisiting Sydney and Melbourne, and on their way made new fans, playing shows in previously unexplored territories.
Port Royal recently released their single 'Rock & Roll Is Dead' (released 30th of April) and went on another massive tour consisting of 15 shows stretching over the East-coast of Australia where they sold out their homecoming show at Lefty's Old Time Music Hall.
Throughout the tour, the band released their vampire-themed music video – with the largest production team and cast to date – which wound up on ABC Rage and MTV Upload playlists.
The band are not slowing down. They go on a whopping 20-date tour throughout August, September, October and November for the release of their sophomore EP, 'Love, Passion, Satisfaction' (out August).