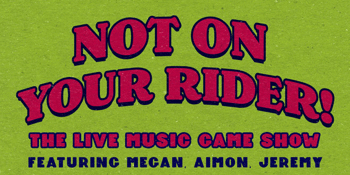 The Triffid presents
Not On Your Rider!
Feat. Megan, Aimon & Jeremy with band leader Simi Lacroix
The Triffid (Newstead, QLD)
Wednesday, 27 November 2019 6:30 pm
Not On Your Rider! is the new music trivia game show coming to The Triffid. Think of it like a mix between a music pub trivia night and your favourite pop quiz shows like Spicks & Specks and Never Mind The Buzzcocks - except you get to play along.
Featuring team captains Megan Washington and Jeremy Neale (Velociraptor) and your host Aimon Clark (The Creases)and Jeremy Neale (Jeremy Neale, Velociraptor) along with a rotating panel of guests from across the entertainment industry - past guests have included members from Ball Park Music, The Jungle Giants, DZ Deathrays & Last Dinosaurs - prepare for a night of surprises, fun and heaps of prizes.